HOLE-A-WEEN
"COMING AT YOU LIVE AND LIVESTREAMED"

OCTOBER 16TH, 2021
"HOLE-A-WEEN AT HOME"
FULL VIRTUAL EXPERIENCE KIT
SOLD OUT!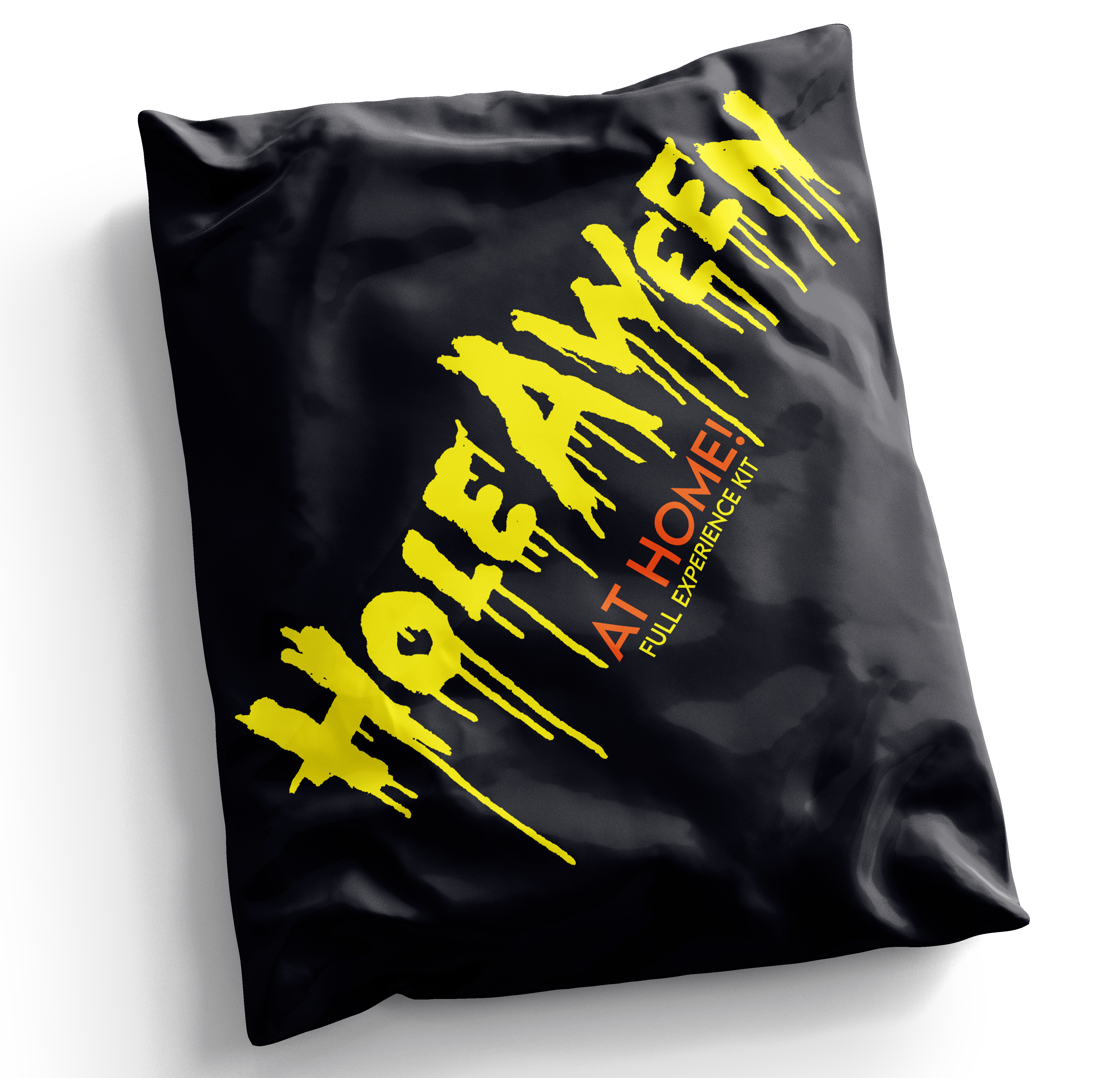 INCLUDES ACCESS TO THE SCARE FAIR, SNACKS, CANDY FROM ECONOMY CANDY, A T-SHIRT WITH ART BY BARF COMICS, FULL LIVESTREAM ITINERARY AND SURPRISES FROM OUR FRIENDS!
SELECT SHIRT SIZE:

NOTE: KITS SENT INTERNATIONALLY WILL NOT HAVE CANDY/EDIBLE PRODUCTS.
IT'S OFFICIAL. WE ARE THROWING THE GREATEST HALLOWEEN PARTY IN THE WORLD, AND YOU'RE INVITED TO ATTEND FROM ANYWHERE ON THE PLANET!
WE ARE TEAMING UP WITH THE ACCLAIMED
FOUR BROS. DRIVE-IN,
IN NEW YORK'S IDYLLIC HUDSON VALLEY, FOR A NIGHT OF INCREDIBLE OCTOBER MAGIC THAT WE ARE MAKING AVAILABLE TO ONE AND ALL.
IN CELEBRATION OF THE OPENING WEEKEND OF
"HALLOWEEN KILLS,"
WE ARE TAKING OVER THE DRIVE-IN AND TURNING IT INTO A MASSIVE CELEBRATION OF HORROR AND HALLOWEEN.THIS WILL BE AN IMMERSIVE, UNFORGETTABLE DOUBLE-FEATURE EVENT!
TWENTY OF OUR PALS (WHO JUST HAPPEN TO BE SOME OF THE COUNTRY'S COOLEST HORROR BRANDS) WILL BE BRINGING THEIR BEST STUFF FOR OUR HALLOWEEN ART BAZAAR, "THE SCARE FAIR!"
VIDEOPUNKS
WILL BE ON THE SPOOKY 1'S AND 2'S, BRINGING THEIR SIGNATURE BRAND OF ANALOG VISUALS AND DARK TUNES. THERE WILL BE CREEPY COCKTAILS AND FREAKY FOOD, ALL AVAILABLE WITH CAR-HOP SERVICE! AND OF COURSE MICHAEL MYERS WILL BE ROAMING AROUND, SO MAKE SURE TO WATCH YOUR BACK.
WHAT'S THAT? YOU DON'T LIVE NEARBY? WELL, DON'T WORRY!
HOLE-A-WEEN WILL BE A GROUNDBREAKING LIVE & LIVESTREAMED EVENT!
GRAB A "HOLE-A-WEEN AT HOME" KIT
AND GET READY FOR GREASY GUS AND THE GANG TO BRING HOLE-A-WEEN RIGHT TO YOUR HOUSE, ANYWHERE IN THE WORLD.WE'VE BENT OVER BACKWARDS TO FIGURE OUT HOW TO BRING YOU EVERY ASPECT OF HOLE-A-WEEN NO MATTER WHERE YOU ARE! YOU'LL GET A FULL EVENING ITINERARY, AN EXCLUSIVE HOLE-A-WEEN T-SHIRT
DESIGNED BY BARF COMICS
, PLENTY OF SNACKS FROM ECONOMY CANDY, POPCORN FROM BUTTER (THE DOG WHO MAKES THE POPCORN), A SECRET LINK TO SHOP "THE SCARE FAIR" ONLINE, AND PLENTY OF TREATS AND TREASURES FROM OUR FRIENDS.
NO MATTER WHERE YOU ARE, NEAR OR FAR, GET READY TO...
#ROLLTOTHEHOLE!
Q: SO, IS THIS AN IN-PERSON EVENT OR A VIRTUAL SCREENING?
A: BOTH! WE WILL BE BRINGING THE FULL EVENT EXPERIENCE TO THOSE WHO CAN'T ATTEND IN PERSON. FROM THE INCREDIBLE MUSIC TO THE PRE-SHOW TO MICHAEL MYERS IN THE FLESH, WE WILL BE RECREATING EXACTLY WHAT IT WILL FEEL LIKE TO BE AT THE ICONIC
FOUR BROS. DRIVE-IN IN MID-OCTOBER!
GET SOME FRIENDS AND
SOME HOLE-A-WEEN AT HOME KITS
AND GET READY FOR AN EPIC, IMMERSIVE EVENT.
Q: DO I HAVE TO BUY A TICKET TO WATCH THE LIVESTREAM?
A: WE STAND FIRMLY BEHIND OUR MISSION STATEMENT TO MAKE ALL SCREENINGS ACCESSIBLE TO ALL PEOPLE REGARDLESS OF WHAT THEY CAN AFFORD. THE LIVESTREAM. WILL BE ACCESSIBLE AT NO COST. HOWEVER,
THE "HOLE-A-WEEN AT HOME" KIT
BRINGS ALL OF THE MAGIC TO YOUR HOUSE, SO THAT YOU CAN BEST ENJOY THE EVENT, PLUS BONUSES LIKE EXCLUSIVE ACCESS TO "THE SCARE FAIR" AND AN ITINERARY FOR THE EVENING.

"HOLE-A-WEEN AT HOME" EXPERIENCE KIT
$29.99

SELECT SHIRT SIZE:

Q: CAN I WATCH HOLE-A-WEEN EVEN IF I DON'T LIVE IN THE USA?
Q: DO "HOLE-A-WEEN AT HOME" KITS SHIP INTERNATIONALLY?
A: THEY DO! HOWEVER THEY WILL NOT INCLUDE THE CANDY OR SNACKS, AS WE ARE UNABLE TO SHIP EDIBLE ITEMS INTERNATIONALLY. YOU WILL STILL RECEIVE A DOPE T-SHIRT, SURPRISES FROM OUR FRIENDS, AND AN EXCLUSIVE LINK TO SHOP "THE SCARE FAIR." AND WHO KNOWS, MAYBE WE'LL SNEAK A LIIIITTLE CANDY IN THERE FOR YOU :)
Q: OH, YEAH. WHAT IS "THE SCARE FAIR?"
A: IT IS A HORROR AND HALLOWEEN ART FAIR! TONS OF AMAZING BRANDS WILL BE HAVING THEIR WORK FEATURED, FROM
TOXIC COFFIN
TO
LOUDMOUTH THREADS
TO
LUNCHMEAT VHS.
THERE WILL BE SHIRTS, ART, TOYS, COLLECTIBLES, VHS TAPES, AND WAY MORE.
Q: WHAT TIME DOES IT START?
A: WE FLING OPEN THE DOORS AT 5:30PM. THE LIVESTREAM BEGINS AT 6PM AND WILL TAKE YOU ALL AROUND THE EVENT! COME GROOVE TO SOME TUNES AND HANG OUT WITH MICHAEL MYERS WHILE YOU BROWSE THE SCARE FAIR! "HALLOWEEN KILLS" STARTS AROUND 7PM.

Q: I'VE NEVER BEEN TO A DRIVE-IN! HOW DOES IT WORK?
Q: WHERE DO I BUY TICKETS IF I WANT TO ATTEND IN PERSON?
Q: WAIT, IF I'M WATCHING FROM HOME, WILL I ACTUALLY GET TO SEE THE MOVIES?!
A: (GASP)(CLUTCHES PEARLS) HEAVENS, WHAT A THOUGHT. I MEAN, TO THINK THAT WE WOULD EVEN CONSIDER DOING THAT...OF RIGGING A CAMERA INSIDE OF A CLASSIC CAR TO BRING YOU AN AUTHENTIC DRIVE-IN'S EYE VIEW OF THE SCREEN AFTER YOU HAVE ENJOYED ALL THE OTHER THINGS THE EVENT HAS TO OFFER... WHY...THAT'S CRAZY.

REALLY CRAZY.

😏️


COMING SOON TO THE BLACK HOLE MONOPLEX!!! COMING SOON TO THE BLACK HOLE MONOPLEX!!! COMING SOON TO THE BLACK HOLE MONOPLEX!!!